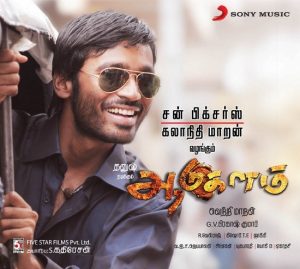 Aadukalam the movie  a perfect New year gift by dhanush to all his fans, aadukalam a perfect masala entertainer which  mainly targets
B and  C center movie goers.There are too many movie release for this pongal but am sure that aadukalam will stand out in thiz cock fight.
Movie lived up to its hype and intense marketing by sun network, truly it will mark a milestone in decade long career of dhanush, he suits perfectly to the
character karuppu with his body language and dialogue, well scripted by vetrimaran and narration style of the incident are unique in is own
way, tapsee just did what expected from her when you act against an established actor, perfect apt for anglo indian character,
not bad for a debut movie,her look and curly hair ,way she walk will steal your heart.
There is no villain in the movie its all about how people behave to a situation and their envy. Story of the movie starts when
karuppu go against the will of his mentor for the cock fight .
"Otha Sollaala" & "Ayyayo" songs are already chart busters, G.V prakash works in this movie is commendable one ,actually BGM saves the movie
more often,Cinematography of the movie velraj did great job,special applause to him for the way he captured the cock fight in the screen,he brought the life of the surrounding to this movie .
First half of the movie is superb compare to the second half which is slow in narration but equally impressive. Dhanush stardom and GV music carries the movie from the beginning to the end, worth watching it for once .
when you come of the movie am sure you will be fall in love with tapsee beauty and GV music , its complete commercial entertainer.