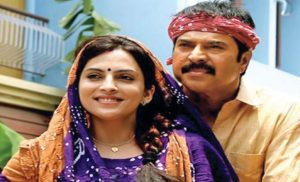 Megastar Mammootty's new film 'Acha Dhin' is getting ready to hit theaters on this Ramzan. The movie is directed by Marthandan.
Mammootty does the role of a native from Jharkhand, who is living in Kerala for the past 20 years, in this film.
North Indian model and actress Mansi Sarma is the heroine. The script is penned by A C Vijeesh. Pradeep Nair is the cinematographer. Bijibal composes music for the lyrics by Santhosh Varma.
Padmaraj, son of late actor Ratheesh, Maniyanpilla Raju, Renji Panicker, Tamil actor Kishore, Kunjan, Jais, Sabu, Sudheer Karamana, P Balachandran, Saju Navodaya (Pashanam Shaji), Harish, Sethulakshmi, Chali Pala, Leela Krishnan, and Anjali also include the cast.
'Acha Dhin' is produced by S George under the banner of Cyn Cyl Celluloid. The movie is distributed by Play House.