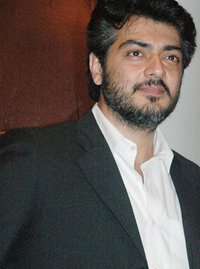 Thala Ajith is always admired as speed lover, and more over his bold attempts, stunts are very dreadful and one will have goose bumps watching his speed drive on a bike.
For his forthcoming film Mankatha, director Venkat Prabhu has asked Thala to do an action stunt by driving fast on a National Highway. Just for the test drive of the scene director Venkat Prabhu has joined Ajith on his drive and on seeing Thala's driving speed the director got shocked as the bike is moving on a speed of 180kmph on the highway. The scene is not yet over, for the second drive the director omitted himself to join him and even more shockingly Thala has drove the bike with a shocking speed of 220 kmph without wearing a helmet.
In a particular time during the second ride Ajith out beats the cameraman's speed as he disappeared in a moment even before the camera pans. Isn't it shocking!
Thala has driven a 1000cc Honda bike and the test drives were shot in a National Highway in North.
With this bold attempt, Thala has sure made his fans more than proud.