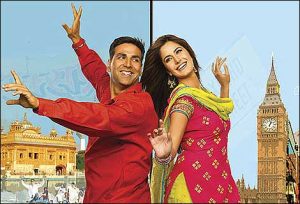 There was a time when a complaint was making rounds that Akshay-Katrina 'jodi' had been overexposed, case in point being 'Singh Is Kinng', 'Welcome' and 'Namastey London', all of which had come in quick succession. Later, even though the pair was seen only sparsely in films like 'De Dana Dan' and 'Blue', it was being stated in the industry circles that the hit couple would be doing many more movies together.
However, this didn't quite happen as Akshay and Katrina didn't sign any new movies thereafter. The only film which would now bring them back in front of audience is 'Tees Maar Khan' and that would be more than a year after 'De Dana Dan'.
Says Shirish Kunder, the film's co-producer, "We had done the calculations while signing on Katrina. To begin with we wanted a newcomer who had to be someone like Katrina. Then we thought why not Katrina herself? After all between 'De Dana Dan' and 'Tees Maar Khan', there was no film planned with the two together. A one year gap is substantial enough for audience to crave for more."
Today when the 'jodi' is being received with open arms all over again, the makers can't help but feel elated.
"Guess we just turned lucky here," smiles Farah Khan, "Audience is pretty much anticipating this 'jodi' to ignite the screen all over again and I am sure they won't go home disappointed."