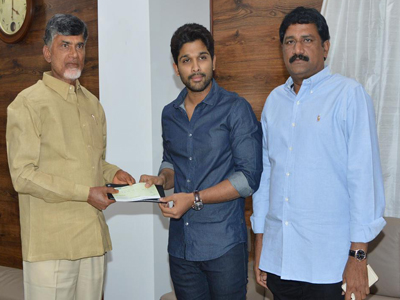 Allu Arjun has kept his promise of donating Rs. 25 Lakhs to the HudHud Victims through CM Relief funds.
Bunny who was in Kochin when the cyclone devastated the coastal regions of Uttarandhra along with Vizag has announced a fund of Rs.20 Lakhs initially and later offered more 5 lakhs after knowing about the huge damage.
Arjun has met Andhra Pradesh Chief Minister Mr. Nara Chandrababu Naidu this morning along with HRD Minister Ganta Srinivasa Rao and handed over the cheque of Rs. 25 Lakhs.
Sai Kumar was among the other Tollywood actors who also handed over Rs.5 Lakhs to AP CM, which was a donation collected from his gated community in Manikonda.