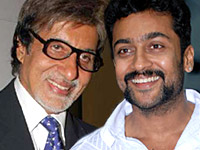 Even before his first film in Hindi, 'Raktha Charithra' directed by Ram Gopal Varma, is released, Suriya has received accoloades from none other than Amitabh Bachchan, the Big B of Bollywood.
The top actor, who saw a few clips from the film when he met RGV recently, was in complete awe of the south Indian actor. And he had even sent a message to Suriya commending his performance in the film.
Says a happy Suriya, "I was thrilled to receive a message from Amitabh Bachchanji. He is such a tall personality and yet down to earth. His words are so encouraging and motivating. It was very sweet of him."
Thanking RGV, he says, "It has always been my wish to act in a Ram Gopal Varma film and it is coming true with Raktha Charithra." A trilingual, the film made in Hindi, Tamil and Telugu also has Vivek Oberoi and Priyamani in pivotal roles.