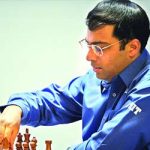 LONDON: World Champion Viswanathan Anand was held to a draw by Michael Adams of England in the sixth and penultimate round but the Indian ace continued to hold joint lead at the London Chess Classic here.
Anand remained in the lead after Russian Vladimir Kramnik failed to bring home full points from a winning position against Magnus Carlsen of Norway in the 1,45,000 Euros prize money tournament being played on a round-robin basis.
On a day of drawn games for the first time in the tournament, the status quo remained and Anand continued to share the lead with Carlsen and Luke McShane of England on 10 points in the Soccer like scoring system in use here that gives three points for a win and one for a draw.
Kramnik and Hikaru Nakamura share the fourth spot now on nine points each while Adams is sole sixth on seven points, well ahead of compatriots David Howell, who has three points, and Nigel Short, who has just two points with his two draws so far.
With just one round remaining, Anand faces arch-rival Kramnik, Carlsen is up against Short while McShane will take on Howell. The fact that Anand is playing white in the crucial last game gives the Indian ample chances to stay clear of the rest of the field in case he is able to register a victory.
Playing black against Adams, Anand did not face any difficulties. It was a Sicilian Najdorf by the Indian ace who showed right intentions for a full-bloodied battle but Adams shied away from complicated lines and stuck to his basics out of a positional system.
Anand equalised comfortably out of the opening and it looked as if he was pressing for an advantage in the endgame that ensued.
However, an alert Adams kept black's forces at bay and once he had established an outpost for his knight in the middle of the board the outcome of a the game was a foregone conclusion. The peace was signed on move 54.
Kramnik may not get a sound sleep in reflection of what he missed. The Russian could have been the sole leader and that many believed was just a notion once he got the winning position out a Nimzowitch defense that Carlsen employed with his black pieces.
With an army-like pawn structure in the centre, Kramnik almost forcibly won a piece and had a huge material advantage when he missed out on a brilliant exploit that was seen only by Carlsen.
Up a Bishop against just one pawn, Kramnik had to split the point in 86 moves.
In other games of the day, Luke McShane went for the English opening and sorted out his middle game problems through perpetual checks to earn a draw against Nakamura while Nigel Short's hunt for an elusive victory continued after he could not demonstrate an advantage with his King's gambit against Howell.
In the open section being held simultaneously, International Master Sahaj Grover misplayed a winning position and lost against Grandmaster Neil McDonald of England.
Sahaj, needed 1.5 points from the last two games for his second GM norm and this is already the second time in under three weeks that the talented youngster missed on the opportunity to make the norm after a fine start.
Earlier in the Cultural village tournament in Wijk Aan Zee, Sahaj needed a draw in the final round to make the grade.
Former world junior champion Abhijeet Gupta gave a fine demonstration of his endgame skills to beat Gary Quillan of England to share the fourth spot on six points while Sahaj remained on 5.5 following the loss.
The event is being jointly led by English duo of Simon Williams and Gwain Jones both of who have seven points in their kitty.
Results Classic round 6: Michael Adams (Eng, 7) drew with V Anand (Ind, 10); Vladimir Kramnik (Rus, 9) drew with Magnus Carlsen (Nor, 10); Luke McShane (Eng, 10) drew with Hikaru Nakamura (Usa, 9); Nigel Short (Eng, 2) drew with David Howell (Eng, 3).