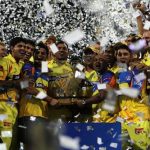 The BCCI today allowed the squabbling Kochi franchisee to participate in the fourth edition of the Indian Premier League, ending the suspense over the fate of team.
The IPL Governing council, which had given a third deadline to Kochi last week after the consortium's investors reached a last-minute agreement over their shareholding pattern, today approved their ownership structure and took it in its fold.
"At their meeting today, the IPL Governing Council confirmed that the Kochi Franchisee had satisfactorily responded to the notice issued to them by the BCCI, and decided that the Franchisee Kochi Cricket Pvt. Ltd., would play in the IPL from 2011 onwards," BCCI Secretary and President-Elect N Srinivasan said in a release.
The Governing Council's decision comes on the backdrop of the legal developments involving the BCCI and expelled IPL franchisees – Kings XI Punjab and Rajasthan Royals, the IPL Governing Council.
Barely seven months after becoming the second most costliest team in the Indian Premier League, Kochi was on the verge of being thrown out of the event.
But the owners of the beleaguered franchise made a last ditch attempt to save the outfit by reaching a compromise.
Before the compromise, the investors of the franchise, which was bought for a staggering sum of Rs 1533.33 crore, had written to the BCCI informing them of their intention to withdraw from the IPL.
That letter was sent after the BCCI, which had on October 10 expelled Kings XI Punjab and Rajasthan Royals for allegedly violating contractual agreements, gave a termination notice of 30 days to the franchise to sort out internal disputes regarding the shareholding pattern.
The investors in the consortium — Anchor Earth, Parinee Developers, Rosy Blue and Film Wave — hold 74 per cent of the equity.
The remaining 26 per cent lies with the Gaikwad family — Shailendra, his brother Ravi and their parents all part of Rendezvous Sports World — as free equity for services rendered while bidding.
It is this 26 per cent which became a bone of contention among the stakeholders as the investors were in no mood to give free equity to the Gaikwad family.
The Gaikwads, on their part, initially refused to part with the equity but have now agreed to forego at least some of it to put an end to the squabbling which threatens the very existence of the team.
The BCCI has made it clear that eight teams will take part in the fourth edition of the league scheduled from April 8, just six days after the World Cup.