Android's latest iteration will see in October, as per confirmation, Nestle has revealed the first news about the launch of Android 4.4 KitKat on Facebook.
While replying to a user who asked "When Android 4.4 KitKat will be available", Nestle's German KitKat Facebook handle replied "Android 4.4 KitKat is available from October".
But this is not official confirmation about Android 4.4 KitKat's release, at least the German Nestle Facebook handle was kind enough to confirm that it is coming next month i.e. in October 2013.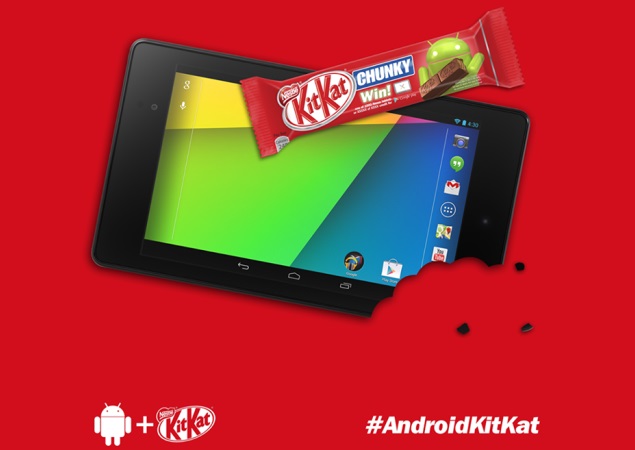 Earlier this month, the search engine giant which has been known for nicknaming its Android mobile operating systems for smartphones and tablets after desserts, had for the first time announced a candy brand name for the version 4.4. However, Google made no mention of when the Android 4.4 update would rollout.
The search giant has been in news ever since it announced the next iteration of its mobile operating system, with the Nexus 4 successor, which is expected to be the platform lead device for Android 4.4 jelly, making multiple appearances on the Internet via FCC filing and image leaks.
In the official promotional video of the KitKat announcement released by Google, a person was seen holding up a phone which came with a Nexus logo at the back, very identical to the Nexus 7 (2013). The back of the mysterious phone had a matte finish and included a large camera lens which has not been seen on any Nexus device, yet.
Recently, the alleged Nexus 4 successor was again spotted in new live images and a video. The purported pre-production unit of the next Nexus smartphone revealed the front and rear panels. It is rumoured that the next Nexus smartphone would run Android 4.4 KitKat OS and both are expected to be launched at the same event.