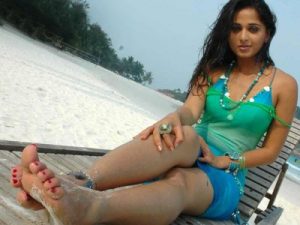 While Illeana is happily doing her second lead in her maiden Bollywood film, Anushka is refusing to do the lead in a Hindi movie.
Normally, any heroine would die for a lead role in a big Hindi movie. But Anushka shows no interest. Recently, she was offered the role in a Bollywood flick, remake of the Tamil movie Singam in which she did the lead role. But Anushka didn't accept it.
Bollywood director Rohith Shetty who is remaking it personally asked her to enter Hindi film industry, yet Anushka declined politely saying she's "comfortable in South film industry."
Anushka is the busiest star in Telugu and Tamil and she is in much demand. So she doesn't want to become another Asin or Trisha who are now back from Bollywood doing South movies.
Although Asin made a grand entry into Bollywood with Ghajini, her subsequent flops made her a no star. Trisha's first Hindi movie, Khatta Meetha, was a disaster. Seeing their pathetic situation in Bollywood, Anushka wants to continue doing Telugu and Tamil movies.