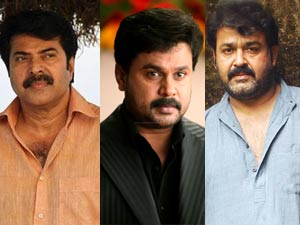 It has been some time since a project titled 'Arakkallan Mukkalkallan' has been announced. To be directed by Siby K Thomas and Uday Krishna, this film was expected to bring the two titans of Malayalam cinema – Mammootty and Mohanlal – together on screen again.
Also the script writers were expected to make their directorial debut through the film.
However, Siby K Thomas and Uday Krishna have remained busy with several other projects, and their dream project has been stalled for quite a while now.
Its now learned that the shooting of 'Arakkallan Mukkalkallan' would start shortly, after the shooting of 'My Name is Avarachan', that has been scripted by the Siby-Uday team and directed by Jose Thomas and starring Dileep.
It should be remembered that Dileep would also be playing a major role in the film. 'Arakkallan Mukkalkallan' would be produced by Mammootty under the banner of Playhouse.