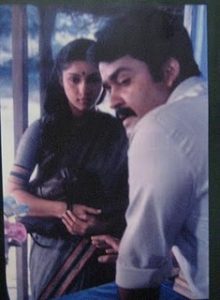 Film lovers in Kerala would always hold a special place in their hearts for the star couple Mohanlal and Revathy.
It should be remembered that most of the films, in which they had been paired together have been rocking successes at the box office.
Now they would be seen together in a film, after a long while. Titled 'Sneham + Ishtam = Amma', the film has been directed by Jayachandran Ayalara.
Newcomer Shaheen plays the lead role in the film. While Revathy dons the role of a writer by the name of Sreedevi, Mohanlal plays the role of Razik Udaybhai, a Ghazal singer.
Jayachandran has been an associate of Bharathan for a long time.