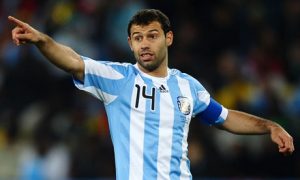 Brasilia: Barcelona midfielder Javier Mascherano said Argentina have the ability to reach the final of the FIFA World Cup final.
Argentina reached the semi-finals of the World Cup for the first time in 24 years after beating Belgium 1-0.
"(World Cup) is going on and we cannot stay with this, we cannot get stuck on the way. We have the possibility to play the World Cup`s final game," said the Barcelona player Sunday.
Argentina face the Netherlands Wednesday in the crucial semis while hosts Brazil take on Germany in the other last four match.
About the victory over Belgium, Mascherano said, "We played with great tactical intelligence." He added, "We were also lucky."