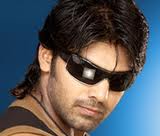 Director Prabhu Solomon is basking in the glory of his 'Mynaa' completing 100 days. When all were expecting Prabhu Solomon to throw a grand function to celebrate the rare achievement, he is quietly moving on strengthening his career.
Prabhu Solomon was to start his next film for producer Lingusamy with his 'Mynaa' hero Vidharth. But Vidharth got committed in the AVM Productions film and Prabhu Solomon is forced to wait until Vidharth returns.
Meanwhile Lingusamy's other production which was to be directed by Mysskin has been dropped for creative differences between the producer and the director. Lingusamy who has got the call sheet of Arya for the Mysskin film didn't want to waste them and so he has called in Prabhu Solomon to do a film for him with Arya's dates.