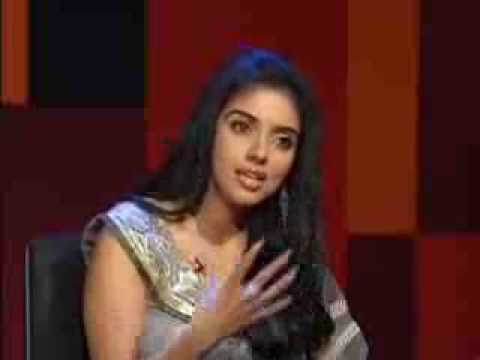 After making heads turn, down south, the petite Asin is on her way to make her presence felt all over India. Recognized for her thorough professionalism and – not to mention – her acting prowess, Asin is associated with a few prestigious projects with some of the kingpins of the Indian film industry, Kamal Haasan and Aamir Khan to name a few.
Extracting time from her demanding schedule, she spoke to us on her past successes and future plans, shared her memorable experiences working with the bigwigs and answered lot more posers with her characteristic effortless charm. Excerpts from the interview.
Lets begin by asking this. Which has been your favorite film and which was the character closest to your heart out of the ones you have portrayed?

My favorite movie will always be Ghajini, because it gave me tremendous scope to perform. It was also the film that catapulted me into the big league. As for the character, it has to be Kalpana as it has many dimensions to it. She is innocent, mischievous, caring and very ambitious, an interesting and rare mix.
There are a lot of expectations for your Deepavali release Vel. How has it shaped up?

Vel has come out very well. I play the role of 7up Swathi in the film, an anchor for a TV channel in the lines of Pepsi Uma. It is a very interesting role and has come out really well. I can't reveal anymore than that, you will have to wait till Deepavali when it releases.
How was the Dasavatharam experience? Share your experiences working with Kamal?

Dasavatharam is a very big project and it has Kamal sir donning 10 different roles. I suppose nobody has ever done that before. I had earlier worked under K S Ravikumar's direction in Varalaaru and this time with Kamal sir also involved, it was a unique experience. It was fun on the sets, be it on camera or off, Kamal sir has such a good comic timing, he'd have you in splits. Truly an entertaining experience.
We know you can't reveal much about the film! But could you at least give our viewers a teaser about your role in the film?

True that I can't reveal much but all I can say is that I play the role of a Tanjore Iyengar girl, a role I haven't played before.
For more on the role, you will have to watch the movie when it releases on Deepavali. It is going to be definitely different from the roles I played for Pokkiri and Ghajini.
You are doing the Hindi remake of Ghajini! Why did you choose to make your Bollywood debut in a remake film and play the same role you did in the original?

I thought it would be the perfect vehicle to make my debut in Bollywood considering that it is a great script and that I am playing opposite Aamir Khan, one of Bollywood's top heroes. It has a great team comprising of a talented director like A R Murugadass, A R Rahman, Cinematographer Ravi K Chandran and editor Anthony, an offer too enticing for me to refuse.
How was the experience working with Aamir khan?

Aamir is such a dedicated artiste and a really down to earth person. It was indeed a pleasure working with him.
Have you been to any acting school?

I entered films while I was in school and got busy soon after and hence I didn't have the time to go to any acting school.
Critics have somehow said you are stuck with the Ghajini hangover and that you have more potential than that. Do you think so?

I would like to thank all those who have believed that I have more to deliver than I have already. As for the Ghajini hangover, I can't do much about it as the character of Kalpana in Ghajini is multi dimensional and no matter what role I play, it is bound to have some shades of Kalpana in it unless it is a completely out of the box kind of character. If something comes my way I'd be more than willing to grab it.
You have donned roles opposite almost every big star in Tamil and Telugu cinema and now you have stepped into Hindi too. Would u pick a movie by its star cast or its script? Also would you be open to act opposite fresh faces?

Yes, of course. If I am offered an interesting script and a meaty role I wouldn't hesitate, it is the script that finally matters.
Now that you have set foot in Bollywood do you intend settling there?

I have said this many a times in my interviews. Language has never been a criterion for selection of films; it is the role and the script. I shall continue doing movies in Tamil and other regional languages.
We have heard that you are the kind who'd pray when you see an Ambulance pass by! Is it an indication of your piousness or are you just being humane?

I developed this habit since I was a child. Whenever you see an ambulance or hear its siren you know that there is someone inside who is in danger and this act of mine is just a kind gesture, not an indication of being pious or religious whatsoever.
Your Deepavali wishes to all your Behindwoods fans

I wish all my fans a very happy and safe Deepavali.