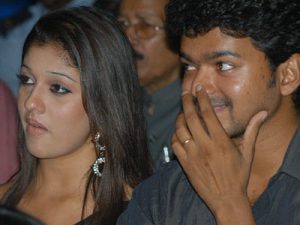 The winners list of one of the most popular Malayalam film awards, the 'Asianet Film Awards' for 2010 has been announced and there are a few names among the winners who are popular in Kollywood too.
Mammootty has won the 'Best Actor' award for his superb performances in films like Kutty Shranku, Pranchiyettan and the Saint and Best Actor. The other mega star Mohanlal will be honoured with the 'Golden Star Award' for his contribution to cinema.
The 'Best Actress' award is being conferred upon Nayantara for her fantastic performance in the film 'Bodyguard'. Interestingly 'Bodyguard' has been remade in Tamil as 'Kavalan' and Asin has played the role of Nayantara in Tamil. It is releasing for this Pongal.
And the surprise element of the 13th Asianet Film Awards this year is that our Ilaya Thalapathi Vijay will be honoured with the Popular Tamil Hero Award for his Tamil films. It is the first time a Tamil hero is given an award in the history of this award.
It is a known fact that Tamil films and its actors have a huge fan following among the Malayalam film goers. Recently Vijay fans even waxed a statue of the actor and displayed it at the 'Kavalan' shooting spot.
In the music category, Hariharan and Shreya Ghoshal have been declared the best singers. The awards will be distributed at Kochi on January 9.