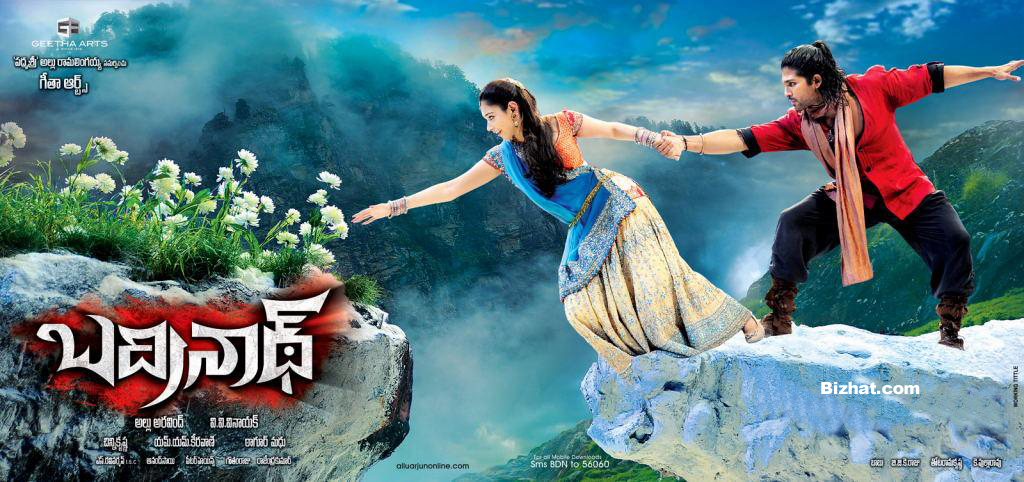 Badrinath CAST & CREW
Actor : Allu Arjun
Actress : Tamanna
CAST : nana patekar
Director : VV Vinayak
Producer : Allu aravind
Music : MM Keeravani
Writer : Chinni Krishna
Story:
Badri (Allu Arjun) is one of the disciples of Bheeshma (Prakash Raj), who is a guru of ancient martial arts. Badrinath grows up into a strong fighter under Bheeshma's rigorous training. He will be appointed as the 'kshetra palakudu' (protector) of Badrinath temple. Alakananda (Tamanna), an atheist comes to Badrinath along with her grandfather. Badri learns that she is in big trouble due to Sarkar (Kelly Dorjee). Alakananda slowly realizes the greatness of Badrinath and turns a devotee. She also falls for Badri who doesn't reciprocate to her love. Bheeshma decides to make Badri his successor by handing over the responsibility of Takshasila. For that Badri has to remain bachelor forever. Not aware of his guru's decision and Alakananda's real feelings towards him Badri gives her a word that he will help her to visit Barinath temple again as she has to do that to make her wish come true. Alakananda prays Lord Badrinath to help her succeed in her love. Bheeshma takes a word from Badrinath that he would take up his duties as a true successor to him. So who wins? How does Badrinath overcomes this contrasting situation?
Analysis:
Badrinath starts on a bright note. The introduction of temples and the visuals are splendid. But immediately it takes a predictable path with some poorly etched characters and scenes. You will hardly find Badrinath being troubled in the training. The training process looks just ordinary. The confrontation between hero and heroine is regular. Nothing new or interesting. The film moves on with a silly flashback episode revealing the troubles of heroine. From then on the movie moves on with a sole reason, that is to find the interval point.
In between there is a fight where Badri goes and kills tens of terrorists with his sword. He simply evades all the bullets with a swing of his sword. It is over the top action which would not be liked by the die hard fans even. Interval episode is too predictable and the action episode goes on for ages during that period. Second half starts on a dull note with hardly any engaging scenes. Song after song follows with a heavily censored fight sequence in between. The film heads to climax with literally nothing happening post interval. Climax is a big let down.
This film is set in current era and that is the biggest logical error as you wouldn't find security and police around Badrinath temple. Even when hundreds of people gets killed there is no sign of police anywhere. The hero goes on a killing rampage in a railway station and the director doesn't care of bringing cops into the scene. Right from the concept of keeping the protagonist as protector to Badrinath temple, this film lacks logic in everything. So called commercial elements didn't work due to weak script.
This film doesn't have any comparisons with Magadheera as the public believed but it has stark resemblance to Shakti movie starring NTR. Like that this film too falls flat on most aspects except for grandeur and a couple of songs.
Performances:
Allu Arjun does the same and speaks like he does in every film despite his awkward costumes and hairstyle. He didn't try to get into the skin of the character as it is no different from his usual roles. His dances are the highlight and probably the only selling factor for this film. Tamanna liberally showed off her skin and helped her part to up the masala dose. Prakash Raj is Okay but his makeup is pretty bad. Kelly Dorjee is wasted and the woman who played his wife is over the top all the time. The man who played their son is a miscast. Raghubabu is regular and repeating Indra's comedy track with Brahmanandam didn't work. Rao Ramesh, Tanikella Bharani didn't have much scope.
Tehnicalities:
Keeravani's songs lack freshness but are good on screen. Thanks to electrifying dances of Allu Arjun. Background score is good but Keeravani failed to recreate his Magadheera magic. Cinematography is good. The visuals of Badrinath stays with you. Art work is fine in parts. Editing is Okay. Story and screenplay written by Chinni Krishna lacks the punch and freshness. Dialogues are mediocre. Action part is another minus as all the fights looked artificial. Production values are good.
VV Vinayak disappoints big time and one cannot completely put blame on him. The problem is with the lackluster script. He couldn't do much with it. He failed in incorporating commercial ingredients too.
Plus Points:
– Badrinath backdrop
– Allu Arjun dances
– Tamanna's glamor
– Few songs
Minus points:
– Story and screenplay
– Over the top action
– Lack of entertainment
– Weak second hour and poor climax
Final Word: Badrinath – This film does justice to the first three letters in its title.
Box office predictions:
Badrinath lets the audience down who go to the movie expecting a magnum opus. Even if you are in for a regular commercial potboiler it fells short of expectations. It may survive in mass centers due to the never ending fights and mass frenzy songs. It needs a miracle to be a break even at the box office.Post your comments on the movie