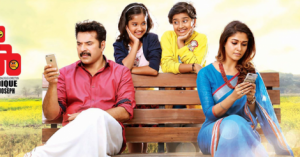 Bhaskar The Rascal is a family entertainer which stars Megastar Mammootty in the lead role. The movie directed by Siddique stars Nayantara in the female lead. Bhaskar The Rascal is produced by Anto Joseph under the banner Anto Joseph Film Company.
Bhaskar was the only pillar of strength for his father during the crisis periods. He was secretly called as Rascal by te people, due to his rough and tough nature and tendency to react instantly if anyone opposes him.
Bhaskar(Mammootty) is a widower with a son Aadhi(Master Sanoop). He is a self made millionaire who builds an empire from the business wreckage of his father, played by Janardhanan. He is an uncouth man who has a rough exterior. But like a typical Siddique hero he has a golden heart. The typical characters which Siddique uses as sidekicks of hero are here as well in the form of Harisree Ashokan, Kalabhavan Shajon and Saju Navodaya. They are just card board characters created just to manufacture laughter.
After losing his wife pretty early, Bhaskar never married again and he has tremendous affection for his son, Aadi (Master Sanoop). But the boy has problems with his dad's habit of getting into fights with all his rivals. As fate would have it, Bhaskar has an unlikely fan in Aadi's classmate Shivani (Baby Anikha), the daughter of a lady entrepreneur, the sweet, charming soft-spoken Hima (Nayantara), who sells homemade chocolates.
The kids want their parents to get married and Bhaskar likes the idea as well. But Hima is not keen about this and there are some unprecedented issues that follow which takes the story ahead.
Cast
Mammootty perfectly plays Bhaskar, a ruthless businessman, a loving son and a extremely caring father. Nayantara makes a fantastic comeback into Malayalam as Hima, an independent lady who single-handedly raises her daughter. Master Sanoop and Baby Anikha steals the show with perfect portrayal of Bhaskar's son Aadhi and Hima's daughte. JD Chakravarthy excels as the soft-spoken antagonist. Janardhanan, Harisree Ashokan, Kalabhavan Shajohn, Saju Navodaya and Devi Ajith, who essayed the supporting roles completely fit into their respective roles.
Bhaskar The Rascal Script And Direction The movie is penned and directed by hit maker Siddique, has nothing new to offer. But the director succeeds in making a perfect family entertainer out of a cliched story line. The movie is rich with comical situations in first half; but shows some flaws in the second half. The climax ofhav the movie couldn't match the exuberance of first half and ended up as an average one.
Bhaskar The Rascal a perfect family entertainer for the festival season. Watch it without much expectations.
Verdict: Masala Entertainer