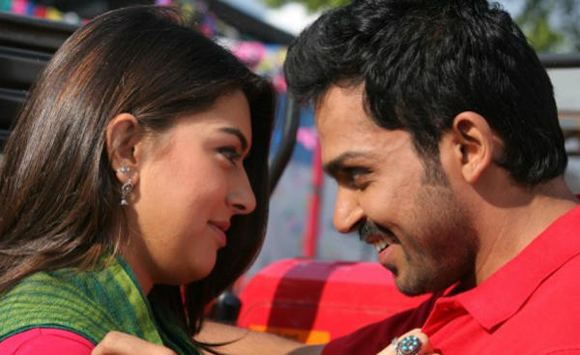 Directed by Venkat Prabhu
Produced by K. E. Gnanavel Raja
Written by Venkat Prabhu
Starring Karthi
Hansika Motwani
Premgi Amaren
Ramki
Mandy Takhar
Music by Yuvan Shankar Raja
Cinematography Sakthi Saravanan
Editing by Praveen K. L.,N. B. Srikanth
Studio Studio Green
Release dates 20 December 2013
Running time 149 minutes
Country India
Language Tamil
Biriyani – Story
Movie about a Corinthian Sudheer (Karthi) and his best friend clean-handed Parushuram (Premgi Amaran) who work for Mahindra company. Sudheer always likes what Parushuram admires and loves. That's how he falls in love with Priyanka (Hansika Motwani). But things around when one night stand goes pear shaped when young woman, Maaya, accepts a lift home from Sudheer and Parushuram. After one-night-stand they wake up with their lives in complete in highlights. They end up with a murdered body, they don't understand what happened to Maaya (Mandy Takhar)? CBI investigator Riyaz Ali (Sampath) in the meanwhile understands the seriousness of the issue and gets along the kidnap case of Varadharajulu (Nassar) a powerful corrupt politician. Things slowly reveal and take a completely unexpected turn in the end.
Biriyani – Star Performance
The performances in the film are a mixed bag. Karthi played a playboy character. He is tailor made for this role. Hansika Motwani brings fresh faced innocence in the first half later brings unbridled confidence in the second half of the film. She has limited to a under developed characterization. Premgi Amaren is good in some scenes, but appears fake in others. Mandi Takhar is magnificent and gets ample scope to shine in a film that doesn't entirely belong to her. Nassar is okay in his small role as Politician. Madhumathi has got a neat role. Sampath is stiff his role as a CBI officer Riyaz.
Biriyani – Techinical Team
The main storyline of the film is a sort of inspired from Hangover but the way Venkat Prabhu developed the movie must be appreciated. Biryani deals MURDER MYSTERY, Venkat Prabhu added his mark parallel dark comedy and action episode. Excessive effort to add comedy has diluted the seriousness of the film. There are quite a few loopholes in the narration of the film. Director tried making romantic thriller with feel good texture, but he could not inject the soul to the characters. The much needed climax twist could have been handled better. Dialogues in the film by Shashank Vennelakanti are routine.
The movie also marks an important milestone for Yuvan Shankar Raja as it is his 100th film. Music by Yuvan is effective, but none of the songs stay with you and seem to have been placed in the film merely as fillers. Background Score supports the scenes. Cinematography by Sakthi Saravanan is good. The frames are rich and colorful. Editing by Praveen K. L & N. B. Srikanth could have been crispier. The major suspense get mixed up with alternate episodes. Production values of Studio Green is praise worthy.
Biriyani – Analysis
The essence of the movie which is reflected in the one night stand, Sister sentiment and investigation fails to penetrate deep in the minds of the viewer's mainly because director Venkat Prabhu's narration lacks seriousness. It is a perfect example to show how bad direction can change dynamics of a film and turn it upside down.
The visually rich Biryani fails to make an impact because it lacks the necessary punch in its screenplay. The problem with Biryani is that it doesn't capitalize on the premise it is built on. Instead, it steers away to produce yet another cheesy entertainer. I thought the first fifteen minutes of the film were entertaining, made audiences laugh and interested, but what followed after that was downright boring and proof of bad writing. Feel sorry for Karthi whose efforts seems to have gone the drain.