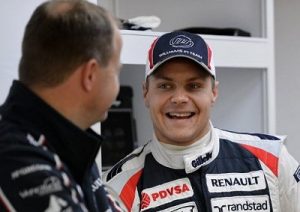 Spielberg: Valtteri Bottas gave Finland another presence on the Formula One podium on Sunday when the Williams driver celebrated his first top three finish at the Austrian Grand Prix.
"Really, really happy. Difficult to put into words really. Just really thankful to the team for giving me this car," the third placed 24-year-old declared.
"It's been a long way for us since last year and many, many years at Williams and now it's so much better. The race was exactly what we needed at this point – clean, nice, everything went like planned really."
Bottas, the latest in a line of top Finnish drivers that includes former world champions Keke Rosberg, Mika Hakkinen and Kimi Raikkonen, made his debut with Williams last year after a stint as reserve.
It turned out to be a miserable season for the former champions, who scored just five points in total and finished ninth overall – a long way from the 1980s and 1990s when they won nine constructors` titles and seven drivers` championships.
This season, with a switch from Renault to Mercedes power and technical head Pat Symonds coming on board, they have been a team transformed and are now fifth with 85 points and within reach of Force India and Ferrari.
They are still off the pace of dominant Mercedes but started Sunday`s race with Brazilian Felipe Massa on pole and Bottas alongside.
The Finn followed up his best-ever qualifying with a best-ever result while Massa dropped to fourth.
"I think overall the best-ever weekend," said Bottas, who took several long swigs of his champagne before spraying the rest at Mercedes` winner Nico Rosberg and second-placed Lewis Hamilton.
"We were really strong the whole weekend and that's down to all the hard work. Of course it was a good track for us.
"You never know what's going to happen in the next race but overall we are making progress. Step-by-step we are getting there, getting closer to the positions where we belong. I'm really happy," he added.
Williams had chances earlier in the season but failed to capitalise on them through errors and misfortune but Bottas, who had the fastest pitstop of the race, said they had finally shown what they could do.
"From all the data that we had from practice we knew that in the race it's going to be difficult and overall Mercedes have still got the quickest car," he said.
"We really nailed it yesterday so we knew that maybe Sunday could be difficult but actually it was a bit better than I expected. We were really close to them on pace."