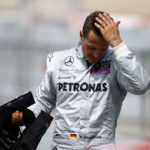 Schumacher failed miserably on his return from a three-year break, finishing a disappointing ninth in the drivers' standings.
But the German, who won seven World titles before retiring in 2006, insisted that the car was to blame for his poor effort.
He also said he was surprised that team-mate Nico Rosberg who ended the season in seventh place, had not suffered the same trouble with his car.
The 41-year-old admitted to having exchanged harsh words behind closed doors with team principal Ross Brawn and the team's motorsport chief Norbert Haug.
"I had no problems with Nico," he said in an interview with a German motorsport magazine.
"But I told Norbert and Ross that it was time to find explanations."
Shumacher said his car did not always handle the same as Rosberg's and blamed technical and tyre problems for his lack of success.
"The fastest driver is a reference for the other one," explained Schumacher.
"You see the data of how he drives, but it didn't work quite so well in the other car. Looking back, there were a few things (wrong) with my car.
"The exhaust got so hot that sometimes the underside of the car burnt or the F-Duct (a system to help the airflow) was triggered in parts of the track where it shouldn't have been.
"But I have not spoken publicly about them, I preferred to discuss it internally."