| | |
| --- | --- |
| | |
| Director: | V.M.Vinu |
| Producer: | Vaisaka Movies |
| Cast: | Mammootty, Namitha, Jayasurya, Bhavana, Innocent, Salim Kumar,Indrans |
| Music: | M.Jayachandran |
| Lyrics: | Girish Puthencherry |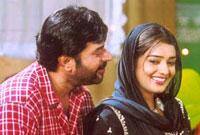 Bus Conductor put brakes to Mammootty's dream run at the box office. The reviews and the reports suggest that this movie does not do anything great for the actor as well as the producer. After reading the reviews we feel that as a new year resolution Mammootty should promise himself that he will stay from 'Ettan' (Big brother) roles.
It is disappointing to see Mammootty doing the jig. Sure, he looks dashing in khakhi (not the police uniform), stubble and a spunky hairstyle. But a bit more focus on the character would have enhanced the Mammootty magic.
Mammootty tries to carry the film on his sturdy shoulders. But his character is pulled in different directions – one moment he has to be a distressed bus owner, the next an action hero and then a good-hearted family man. The other characters are dwarfed in his presence.[Review : Bus Conductor]
Not again! V.M. Vinu and T.A.Razzak has mixed their Balettan and Vesham and served it as Bus Conductor! It is a run-of-the-mill cliché-crammed family formula story set against a Muslim milieu.
Mammootty does the "big brother act" convincingly. The underlying theme is the all embracing goodness of the character he plays-Sultanveetil Zakir Hussain alias 'Bus conductor Kunjakka'.. Mammootty navigates and negotiates the crests and troughs in this grossly uneven film with felicity.
M.Jayachandran is losing his magic touch as there is not even one song which is hummable. The background score is similar to Tamil superstar films, where they scream the title of the movie as the hero delivers a blow to the villain or utters a punch line.[Review : Bus Conductor]
All good things must come to an end. So it seems Mammooty's record-breaking run of films that were new and unique. Whatever maybe the box office verdict of Bus Conductor, the film at best is a pale pastiche of some previous hits that is teeming with platitudes.
Mammooty himself is let down by a one-dimensional character. But to be fair to him, even here comes up with some sparkling show. But for him, the film would have been even more difficult to endure.
It is a story that is overweighed by treacle-soaked sentiments. In fact, the maudlin nature of the script makes you groan. Starting with Mammooty none of the artistes have letdown the story. Every one chips in efficiently. But the director Vinu has chosen the wrong path. He gets himself tied up through over-the-top sentiments.[ Bus conductor – Over-loaded journey]