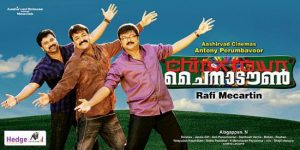 Review- China Town
Producer- Antony Perumbavoor
Director- Rafi- Mecartin
Cast- Mohanlal, Jayaram, Dileep, Kavya Madhavan, Poonam Bajwa, Dipasha etc.
Music- Jassie Gift
Cinematography- Azhagappan. N
Story, Screenplay, Dialogues- Rafi- Mecartin
Review by : Unni
'China Town' has been an eagerly awaited film. Mohanlal, Dileep and Jayaram coming together in equally important roles and that too in a film by hitmaking director duo Rafi-Mecartin is big news for film lovers in Kerala. So it has been an eager wait for 'China Town', expecting it to be a full-length colourful entertainer.
'China Town', when it finally hit screens, is fun, at least half way through. Till interval it's fun, real comedy that makes you laugh aloud. But then, post-interval, it's not so. After interval, it's a mix and at times even confuses you. Had the second half of the film been like the first half, it would have been much more enjoyable. As of now, 'China Town' has a good, enjoyable first half and a rather confusing, a bit boring second half. But the film may turn out to be a hit, a family hit.
Mathewkutty (Mohanlal), Zachariah (Jayaram) and Binoy (Dileep) are made to come to Goa by Gomez (Captain Raju), who is rich and runs a casino there. Gomez wants them in Goa as he wants them to take charge of the casino. Mathewkutty is accompanied by Rose (Kavya Madhavan) and later, during their stay in Goa, the trio, who become friends, also become close to Emily (Poonam Bajwa), who is Gomez' daughter and also to Chandni (Dipasha), the home minister's daughter. There is Gauda (Pradeep Rawat), a businessman and aspiring politician, with whom Mathewkutty, Zachariah and Binoy lock horns later. It's with this that the story takes a new turn.
The scenes where Mathewkutty, Zachariah and Binoy are introduced are handled well and are real funny scenes indeed. Suraaj Venjaramoodu's goonda Chandran Valanjavazhi alias CV also puts in some funny moments and elicits loud laughs. The romance part is also worked out well in the first half. But then, in the second half, it all goes wrong and it seems Rafi and Mecartin, who handle the script as well, lose control of the subject in a bid to make it entertaining and more humorous. The sumo-wrestler bit in the second half seems deliberately put in and is even distasteful at times. The scenes where the protagonists get drunk and drugged and lose track of what they are doing is all poorly executed. The second half thus plays spoilsport to the entire movie, which would otherwise have been 100% entertaining.
Performances
Mohanlal, Jayaram and Dileep do justice to their roles. Kavya is good but Poonam Bajwa and Dipasha don't have much to do. Dileep is good in the first half but cuts a poor figure in the post-interval sections. The others in the cast are OK with their roles. One wonders why Jagathy Sreekumar was brought in, almost at the close of the movie and what his character was meant for. He has nothing to do, performance-wise.
Technical aspects
Azhagappan has done a good work of the cinematography. The editing and art-work are in tune with the mood and theme of the movie.
Music
The songs don't make much of an impact whereas in usual Rafi-Mecartin films, songs, mostly peppy ones, go on to become hits and contribute towards making the film a hit. With 'China Town' it's not so; the songs are just so so.
Script
Rafi and Mecartin have worked well with the first half of the movie while in the second half it seems they have taken themselves for granted and forgot that they were confusing the audience to an extent and even exhausting them. Of course there are things to laugh in the second half, but there is an apparent lack of logic and continuity in the second half.
Direction
Rafi and Mecartin, the makers of colourful entertainers, are in full form in the first half of 'China Town' and do justice to the script at hand in the second half too. The only problem is that the script, penned by Rafi and Mecartin themselves, go wrong in the second half and to an extent mar the totality of the film.
Overall verdict- Comic, funny first half followed by a not-so-good second half. Good for the family audience. Likely to be a hit