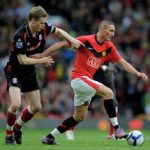 Manchester United boss Sir Alex Ferguson is considering a move to bring Ryan Shawcross back to Old Trafford.
According to reports in the Daily Mail, United's chief scout Jim Lawlor had an eye out for the defender during Stoke City's 2-2 draw against Wigan on Saturday.
After seeing his second-string defence blasted away by West Ham in a 4-0 Carling Cup knockout last week, Ferguson is looking to bolster his defensive options, and Shawcross is in his plans.
The 23-year-old player quit United in 2007 to join Stoke after a lack of first-team opportunities, but Ferguson was reportedly reluctant to let him move, and added a clause in his transfer that gives the Red Devils first option on the player if he was sold, provided United matched any rival bid.
But the player could also be tempted with a move to Anfield instead, with further reports indicating Roy Hodgson is planning to use the cash from John Henry to make a move for Shawcross.