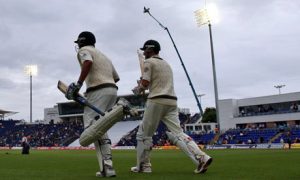 Australian cricket team to play first day-night Test in series against New Zealand
Cricket Australia (CA) CEO James Sutherland and his New Zealand counterpart David White met here last week during the International Cricket Council (ICC) annual conference to discuss the possibility of a day-night Test in 2015-16.
The two boards are planning to stage the match when New Zealand tour Australia in November 2015 with Hobart and Adelaide as possible venues for the inaugural match.
The ICC approved Test cricket under lights in 2012 with the member countries told to work together on the finer points and pink ball trials were started in the Sheffield Shield games last summer.
"We are serious about pushing ahead with the concept of day-night Test cricket," Sutherland said in a statement.
"We feel it will only strengthen the position and possibilities for Test cricket in many parts of the world.
"There are many Test matches played during non-holiday periods when adults are at work and kids are at school and that`s not an ideal way to promote the highest form of the game."
Sutherland said that it is important to propagate the idea of day-night Tests which will help the format not only survive but also thrive in all parts of the world.
"The summer holiday period in Australia really lends itself to Test cricket, but at other times of the year it can be difficult for fans to attend or watch Test matches, be it here or in other parts of the world.
"That`s really at the heart of the issue. The challenge is to try to make Test cricket more accessible for fans."
White said that New Zealand Cricket is looking forward to contributing to the day-night Test concept, especially in terms of helping develop a new pink ball suitable for the longer format.
"Australia continue to assess conditions to ensure they are appropriate to stage Test cricket at night, and we fully support that duty of care," White said in the CA statement.
Both the governing bodies will get feedback of players, spectators and broadcasters. ICC chief executive David Richardson said he supported the idea.
"I`m pleased that after the ICC board gave its thumbs-up during the 2012 annual conference and following extensive trials and debates, we are now at a stage when two of our members are contemplating playing the first-ever day-night Test," he said.