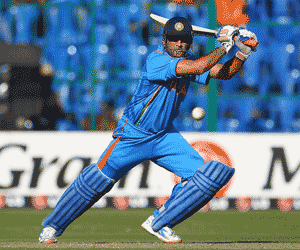 NEW DELHI: Indian captain Mahendra Singh Dhoni has apparently been warned by the International Cricket Council (ICC) for breaching its ambush marketing clause for the World Cup that starts February 19.
Dhoni has been asked by the ICC to stop promoting and endorsing Sony and Aircel, which are the rivals of ICC's sponsors associated with the World Cup.
ICC's rules clearly state that players have to stop promoting companies and products not related to the World Cup before the event begins.
The ICC has informed chief executives of all the national boards that players can be thrown out of the World Cup for breaching its ambush marketing clause.
"Any squad member that knowingly or unknowingly breaches the squad terms may face sanctions ranging from financial penalties through to being excluded from continued participation in the event," ICC's legal head David Becker had earlier said in a memo to all international players.
Earlier this month, some of the Indian cricketers led by Sachin Tendulkar had also met the Indian cricket board president Shashank Manohar on this issue.