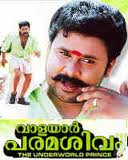 It has been a couple of years since news of a sequel to the hit film 'Runway' starring Dileep and directed by Joshey was announced.
However, there was no further development on the project, and there were even rumours that the film titled 'Valayar Paramasivam' has been dropped.
Now it has been announced that 'Valayar Paramasivam' would indeed be made with Dileep doing the title role. Kavya Madhavan would be his heroine.
Siby K Thomas and Udaykrishna would script 'Valayar Paramasivam'. The film would be an action comedy. 'Valayar Paramasivam' would be produced by Dileep himself.