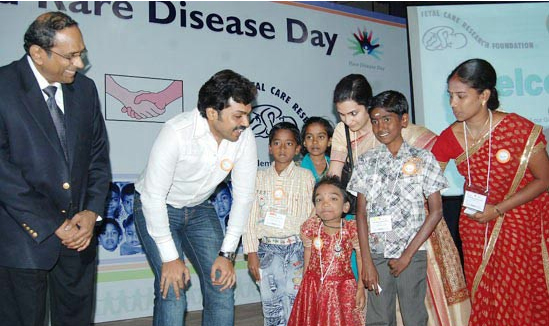 Karthi Sivakumar has turned as the cause ambassador for Lysosomal Storage Disorders (LSD). The actor also looking forward for the support of the media to create awareness on the disorder as it gives an opportunity for many people to help the affected children.
Karthi on talking to the media said "Professionals of this field admit that only 6 out of 40 Lysosomal Storage Disorders can be healed through treatment which is possible through enzyme replacement therapy. I welcome all the corporates and other organizations to donate and provide a helping hand to the suffering children".
In fact Karthi always comes forward for any social cause and this is not the first time for the actor. He recently adopted a white tiger named Namratha at Vandalur zoo and has donated Rs 72000 which covers six expenses of her
The actor also added that "I wish that awareness has to be created to protect the animals and during my free time I am in plans of visiting wild life sanctuaries, and will help the best way possible".