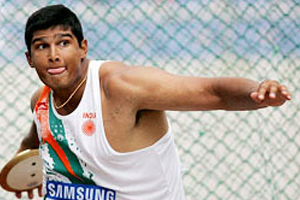 London: India's top discus thrower Vikas Gowda came up with a below-par performance to finish a disappointing eighth in the final round of the men's discus throw event with an effort of 64.79m at the Olympic Stadium here.
The 29-year-old Gowda, who had qualified for the final round with a throw of 65.20m, surprisingly could not even cross 65m mark late Tuesday night when it mattered the most, much to the dismay of the Indian contingent who were hoping for a better show from him.
The United States-based Gowda's first attempt of 64.79m turned out to be his best throw as he probably found the cold conditions and the intermittent drizzle too tough to deal with.
The Indian managed to remain in the top eight after the first three throws and got the customary six attempts but could not capitalise on that to improve his performance and reach anywhere near his personal best of 66.28m.
Although Gowda qualified for the final round, no one really expected him to win a medal but his performance in the final came as a damp squib as he failed to improve upon his qualification mark.
Germany's reigning world champion Robert Harting clinched the coveted gold medal by hurling the disc to a distance of 68.27m while Iran's Ehsan Hadadi took the silver with a throw of 68.18m. Defending champion Gerd Kanter of Estonia had to be content with the bronze with a season's best throw of 68.03m.
None of the discus throwers, however, reached anywhere near the Olympic record which stands in the name of Lithuania's Virgilijus Alekna who had thrown 69.89m in the 2004 Athens Games. Germany's Jurgen Schult holds the world record of 74.08m established in 1986.
After recording his best effort of 64.79m in the first attempt, Gowda had throws of 60.95m, 63.03m, 64.15m, 64.48m and 63.89m in his subsequent five attempts. The Indian went all out in the fifth attempt in a bid to cross the 65m mark but without much luck.
Qualifying performance of 65m or at least the 12 best performers had advanced to the final. After the first three throws, the last four participants were eliminated and the remaining eight got three more throws.