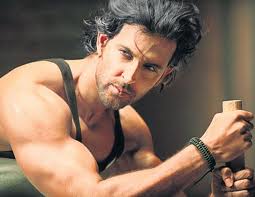 Hrithik Roshan is working in a remake for the first time, but the Bollywood heartthrob is determined not to continue with the genre post-"Agneepath". As far as comparison goes with the original, he is unperturbed.
"I don't want to do remakes only. My premise is that I should not do remakes. Earlier, I didn't even want to hear about it. Now at least I will hear it," Hrtihik told IANS in an interview.
Filmmaker Karan Johar decided to give a makeover to his dad Yash Johar's 1990 production venture "Agneepath", in which Amitabh Bachchan gave one of his best performances as Vijay Deenanath Chahuhan and won a national award.
Karan roped in Hrihik to play the protagonist and with "Agneepath" ready to hit screens Jan 26, expectations are high and people are likely to compare Hrithik with Amitabh. But he is unruffled and believes that "if you do something in your own way, in your individual way, then it will stand out. People will not compare."
The 38-year-old's performance was critically acclaimed in films like "Jodhaa Akbar" and "Zindagi Na Milegi Dobara" and he even gave blockbusters like "Kaho Naa… Pyaar Hai", "Krrish" and "Dhoom 2".
Despite having such an impressive body of work, he says he can't "act".
He said: "My premise is that I can only act well if I am in that character. I have to know everything about my character. If I am not living it, then I can't act. If you ask me to imitate or act, I can't do it. Others can because they have that talent. I can't act, so I am bad actor."
The new age Vijay Deenanath Chahuhan says shooting for the climax, which is full of blood and gore, was the most difficult part of the movie, helmed by first-time director Karan Malhotra, a former assistant of Karan Johar.
"The climax was shot in Diu and throughout I had to fight with Sanjay Dutt with a bare and bleeding body and the shoot went on for 22 days. It ended up being the toughest schedule of my life," said Hrithik.
If the "Agneepath" promos are creating curiosity, the new villian in B-town – Sanjay Dutt – has grabbed the limelight with his scary look.
Sanjay's look has scared not just the audiences but Hrithik too.
"Once during the shoot Sanjay Dutt gave me such a harsh look that I was taken aback. I thought is this Sanjay Dutt? I was like what's happening," he said.
"In the beginning audiences would feel that it's impossible and Vijay is nothing. If it would have looked easy, then you would not enjoy the journey."
Hrithik was quite sceptical before signing the film, but the strong script convinced him to get on board.
"Karan Johar being a friend forced me and asked me to read the script. When I read the script I was shocked. As an actor it touched me. I was defenceless. I had no reason to say no," said the actor who has teamed up with Priyanka Chopra in the movie.