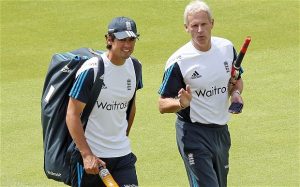 Monday`s 95-run defeat in the second Test at Lord`s, a result that put the tourists 1-0 up in the five-match series, came after England had won the toss on a pitch that might have been made to captain Alastair Cook`s specific instructions and against an India side who had not won away from home in 16 previous Tests.
Whether it was Bhuvneshwar Kumar bowling like a classic seamer or opener Murali Vijay`s invaluable second-innings 95, India excelled in disciplines that were once common to every county, let alone England, team.
And then compounding the `role reversal` was the way the match ended, when several England batsmen succumbed to a bouncer-trap baited by Ishant Sharma who promptly took seven for 74 as India won only their sixth Test in England.
It was somehow typical of England`s present plight the only player who was actually dropped from the squad for the third Test was left-arm spinner Simon Kerrigan, who didn`t play at Lord`s.
By then, experienced wicketkeeper Matt Prior had withdrawn, citing quad, Achilles and right hand injuries, to be replaced by 23-year-old Jos Buttler, uncapped at Test level but already England`s limited overs gloveman.
Given England`s extensive backroom staff, how was it that Prior, who dropped six catches of varying difficulty this season, had been selected to be behind the stumps for four straight Tests — with only one Championship match as a keeper behind him this season — when he was so clearly unfit?
His inclusion revived accusations the England set-up was a `cosy club` where even basic fitness issues could be overlooked.
Significantly, the only player who was told there was no way back at international level after England`s 5-0 Ashes thrashing in Australia was Kevin Pietersen, England`s all-time leading international run-scorer.
But if bringing back Pietersen won`t be a cure-all for England`s ills, what the preceding 1-0 series defeat at home to Sri Lanka and the ongoing campaign with India have both demonstrated is that he is not the sole source of their woes.Cook and Ian Bell, the two senior batsmen in an otherwise inexperienced top-order are both in the middle of a run-drought.
Left-handed opener Cook has gone 27 innings without adding to his England record of 25 Test hundreds, while it is 19 innings since Bell last reached three figures at this level.
Cook, for all that several ex-England skippers have told him to resign the captaincy, is determined to carry on.
"I haven`t had any tougher times in my career than at the moment," said Cook. "It gets harder and harder the longer it goes on.
"But I don`t think walking away from it would be the way to go," he said.
Meanwhile new-ball duo James Anderson and Stuart Broad have both looked physically and mentally tired, with Anderson not helped by a row with India`s Ravindra Jadeja during the drawn first Test in Nottingham.
Friday saw Jadeja fined but not banned for his part in the alleged incident by the International Cricket Council, while Anderson could yet miss the final two Tests of this series if a separate August 1 hearing finds against him.
Yet the man most likely to be dropped from the team is Ben Stokes, one of the infamous `happy hookers` at Lord`s, who has six ducks in his last 10 international innings.
Fellow all-rounders Chris Jordan and Chris Woakes will be eyeing Stokes` spot.
For India captain Mahendra Singh Dhoni, the unexpected but welcome problem is how to guard against complacency.
"We don`t have too many experienced players but it is important to seize our chances and put the opposition away, said Dhoni.
"Being humble in cricket is very important."