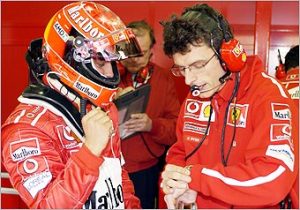 Milan: Ferrari's Chris Dyer, blamed by Italian media for a strategy error that cost Fernando Alonso last year's Formula One world championship, was replaced as head of race track engineering on Tuesday.
Spaniard Alonso went into the Abu Dhabi season-ender top of the standings but an early pit-stop backfired and he finished the race seventh while Red Bull's Sebastian Vettel won to take the crown.
"Pat Fry will, in addition to his current role, take on the job of head of race track engineering," a Ferrari statement said.
"Up until yesterday, this position was held by Chris Dyer and his role within the company will be redefined in the next few days."
Fry, the existing deputy of technical director Aldo Costa, will be joined by new face Neil Martin, who takes the role of heading up the new Operations Research department.
The 38-year-old Englishman previously worked for Red Bull and McLaren.
Ferrari team principal Stefano Domenicali earlier said he had considered quitting after the Abu Dhabi debacle.
"I asked myself if it was right or not to stay. It seemed a reflection I had to do, a responsible one. I'm not attached to the hot seat," Domenicali told La Repubblica.
"However, I reached the conclusion that to resign would have been an error."
He said he had not feared the sack but did not sleep for two days after the race.
Domenicali, whose team will unveil their 2011 car at the end of January after it passed a series of mandatory crash tests last month, is now raring to go for the season having admitted Red Bull were "objectively" quicker than the Italians last year.
"I know the team and I think I am the right person to capitalise best on what we have done in these months," he said.
"From a methodology point of view, at Maranello we have changed almost everything and I'm certain that soon we will see the results of all this work."
The sport's most successful team, which finished a distant third overall last year with Alonso and Brazilian Felipe Massa, said their factory was fully back to work after the Christmas break.
Alonso and Massa will take part in a media event with Italian MotoGP rider Valentino Rossi, now with Ducati, in the Dolomites next week.