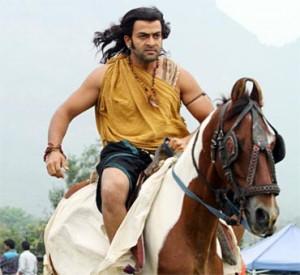 Prithviraj's eagerly awaited Santosh Sivan period action drama Urumi's poster designs, were unveiled at the famous Attukal Pongala festival in Thiruvananthapuram.
The posters look awesome and really out of the world, with a Hollywood cut to it.
Prithviraj who is one of the producers of the film wanted the first poster to be dedicated to Attukal temple, a favourite deity of his mother Malika Sukumaran.
Urumi is one of the most expensive Malayalam film, and has an array of national stars.  The audio of the film will be launched in March first week at Le Meridian in Kochi.
The film whose shoot has been completed is being now edited in Mumbai.
The trailer of the film is being launched today (Feb 19) at Vanitha Film Awards in Kozhikode  by Genelia, one of the heroines of the film.
Prithviraj will be present at the function along with the films executive producer Mubina Rattonsey.
Urumi will be the big summer release on March 31, worldwide