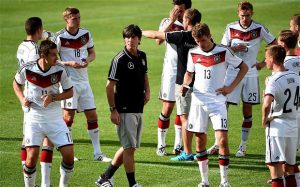 Seven of Germany`s World Cup squad have been hit by `flu symptoms and sore throats ahead of Friday`s World Cup quarter-final against France, head coach Joachim Loew confirmed Thursday.
The full squad trained at Rio de Janeiro`s iconic Maracana stadium on the eve of the game with no obvious ill effects.
But Loew has said seven players are affected, without stating who, and centre-back Mats Hummels missed Monday`s last 16 win over Algeria with illness.
"One third of our squad were complaining of sore throats and perhaps they picked something up from the air-conditioning and different climates here," said Loew.
"Sometimes you have to wait and see how things develop.
"Mats ran a fever at the start of the week, but all players were able to train today.
"Some have a slight cold, but there is no lethargy and I hope it stays that way over night."
The German FA (DFB) had previously said defensive midfielder Christoph Kramer is struggling to be fit for the Rio clash after showing flu-symptoms.
On Thursday, Germany goalkeeper Manuel Neuer revealed Hummels had been kept away from his team-mates at the team`s hotel to stop the bug from spreading.
But the Borussia Dortmund star has tweeted on Wednesday that he is "almost 100 percent" ready to face the French.