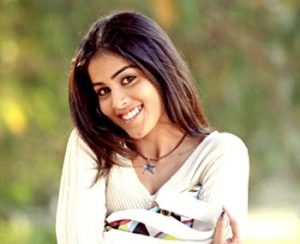 Name: Genelia D'Souza
Nick Name: Genny
Place of Birth: Bandra, Mumbai.
Date of Birth: August 5, 1983.
Religion: Christian
College: St Andrews College, Bandra, Mumbai.
Education: Business Administration
Languages: English, Tamil, Telugu and Kannada
Family Background
Family: Mom, dad and elder brother.
Favorite's
Favorite movie stars: Sharukh Khan and Kajol.
Favorite music director: A R Rahman
Favorite singer: Lucky Ali
Favorite song: Secret of success
Favorite dresses: Jeans, T Shirts and Salwar Kameez.
Hobbies: Watching movies and listening to songs.
Film Background (Filmography)
Famous Movies: Satyam, Samba, Sye, Subash Chandra Bose, Masti, Boys, Sachien, Naa Alludu etc…
Latest Movies: Bommarillu, Chennai Kaadhal
Upcoming Movies: Vaarnam Aayiram, Santhosh Subramaniam
Genelia Biography
Popular Telugu actress Genelia D'Souza was born on August 5, 1987, in England. She is also known to people close to her as Harini. Her parents originally hail from Goa and later moved to England. Genelia made her move from England to India in pursuit of her childhood dream of becoming an actress. She got her first break in the movie 'Boys' directed by Shankar. The film was a box-office hit and soon Genelia started getting more roles. Genelia has so far acted in over a dozen Telugu, Tamil and Hindi movies.
Genelia – The Tollywood Actress
Genelia's success rate in Tollywood has been pretty good. Her movies Satyam, Masti, Samba, Sye and Happy have all fared pretty well at the box office. Despite getting good roles and her movies doing average business commercially, Genelia was still waiting for that one big hit that could change her career. The wait was not long as her most recent movie 'Bommarillu' has had a huge positive impact on Genelia's career.
Bommarillu, with Genelia and Siddharth Narayan in the lead, became a super duper hit and gave her career the much needed boost. In the movie Genelia plays the role of a talkative and bubbly girl 'Hasini' who does whatever she likes to do. Her acting skills have been well appreciated throughout the industry and she won many awards for the movie.
Finally the true acting talent of Genelia has come to forefront with 'Bommarillu' and now time will tell if Genelia can become the number one actress in South India. Her latest movie Dee with Vishnu directed by Sreenu Vytla is expected to come out in January or February. Genelia also recently bagged the role of leading lady opposite Aamir Khan's nephew Imraan Khan in his debut Bollywood movie Tu Ya Jaane Na.
Early life and educational background
Born in Mumbai into a Mangalorean Catholic family, D'Souza was raised a Roman Catholic in the Bandra suburb of Mumbai. Her mother Jeanette D'Souza was formerly a managing director with a Pharma Multinational corporation (MNC), who left her job in 2004 to help Genelia with her career. Her father Neil D'Souza, is a senior official with Tata Consultancy Services (TCS).She also has a younger brother, Nigel D'Souza,who works with the Bombay Stock Exchange. According to D'Souza, her name "Genelia", means "rare" or "unique", and is a portmanteau of Jeanette and Neil, her mother and father's name. She is also often informally referred to as Geenu, her nickname. D'Souza studied at the Apostolic Carmel High School in Bandra and later joined St. Andrew's College in Bandra to pursue her Bachelor's Degree of Management Studies.She completed her degree while shooting for her first film, Tujhe Meri Kasam in 2003 and initially thought that an MNC job would suit her.[14] She liked sports and studies in college, and was a state level athlete, sprinter, and a national level football player.D'Souza did her first modeling assignment at the age of 15,the result of being spotted as the bridesmaid at a wedding. She was selected for the Parker Pen commercial with Amitabh Bachchan, just two days before her exams, and had to shoot the next day. Initially she refused, because of her exam the next day, but the director persuaded D'Souza to shoot for the commercial.
She gained wide attention from the Parker Pen commercial with Amitabh Bachchan,who said "she was good, and her expressions were spontaneous".She further did a Fair and Lovely 2003 Cricket World Cup advertisement with cricketer Krishnamachari Srikkanth.
Personal life
D'Souza is deeply religious and says that, she regularly attends Sunday Mass at St. Anne's Parish (Bandra), and whenever the family is home, a part of their evening is reserved for saying the rosary together.In an interview with The Times of India, she comments, "I keep a Novena every Wednesday at St. Michael's Church in Mahim."In an interview with Daily News and Analysis, she said that "My communication with God is conversational, I'm God's favourite child; I believe that God has always been kind to me." Tabloids have repeatedly linked D'Souza romantically with Ritesh Deshmukh, ever since they starred together in their debut film Tujhe Meri Kasam in 2003.They were reportedly ready to get engaged, but Ritesh's father, the then-Maharashtra Chief Minister, Vilasrao Deshmukh did not agree.Ever since then, D'Souza has strongly denied any rumors of a relationship with Deshmukh, and responds that she has just friendly relations with him. She currently resides in Bandra (Mumbai), where she was brought up. Her mothertongue is Konkani.
In June 2010, she was the subject of a controversy, when a Tamil daily reported that she had attended the controversial 2010 IIFA Awards in Colombo.Several Bollywood actors and the South Indian film industry had boycotted the event, over the alleged killing of Tamilian civilians at the height of the conflict between the Sri Lanka Army and the Liberation Tigers of Tamil Eelam (LTTE) in 2009.The rumours of her visit to Colombo started after her friend Ritesh Deshmukh was seen at the festival in Colombo. Immediately, various Tamil groups and Kollywood associations demanded her films to be banned.