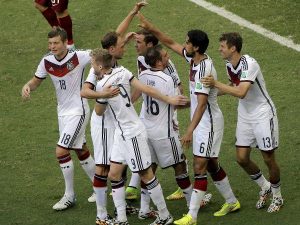 Both teams approached the match along expected lines, Germany pressing high up the pitch and Argentina defending deep.
The big question was how the high German defensive line was going to cope against pace on the counter-attack. Not very well, it seemed in the beginning.
Argentina attacked primarily down the right side, Lionel Messi and Ezequiel Lavezzi finding space on the break.
That all attacks came down that right flank was probably down to two reasons: Argentina wanted to target the German left-back Benedikt Howedes, who is not a natural fit; and secondly, Messi tends to drift towards the right.
Unlike Switzerland, Belgium and Holland, Germany did not attempt to stifle Messi with tight marking. Bastian Schweinsteiger closed him down on a couple of occasions, but he did not leave his zone in the centre of midfield. Germany had over 70% of the possession in the first half, but Argentina sat deep and crowded the box. Germany thus looked for space on the wings and found plenty on the right, where Philipp Lahm and Thomas Muller combined dangerously on several occasions.
Originally a 4-4-1-1, Argentina switched to two up front with Sergio Aguero's introduction at the break. Rodrigo Palacio came on later and also had a gilt-edged chance. But the reality was that Argentina failed to muster a single shot on target over 120 minutes.
For Germany, Sami Khedira's absence meant others' defensive responsibilities increased. As the game wore on Schweinsteiger's attacking presence shrank and he did a fine job defensively.
The extra day's rest probably helped but Germany looked the fitter team in extra time. It was maybe no coincidence that the goal was the work of two substitutes, Andre Schurrle and Mario Gotze. Argentina's strikers, meanwhile, will rue their poor finishing.