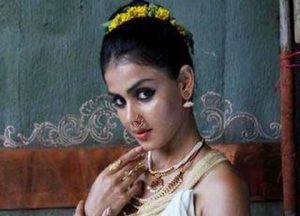 We are truly, madly and deeply in love with Genelia. She is bubbly and chatty, just the way she portrays her characters effortlessly on screen. The actress is glowing in the aftermath of her recently released Santhosh Sivan's period drama Urumi in Malayalam.  In this casual chit- chat with Sridevi Sreedhar, Gene as she is known among friends, opens up
How did you prepare for the role?
Santhosh gave me an indepth narration of the story and Ayesha my character. His research about the story of Vasco Da Gama and his knowledge is immense.
He told me that my character needs to be trained in Kalaripayettu, a martial art of Kerala which is a blend of looking beautiful and tough at the same time. The body posture and my expressions had to gel. I used to practice Kalari under Kalaripayettu exponent Ulhas for at least four hours a day. Santhosh used to keep on briefing me about my character Arakkal Ayesha, and me  being a good listener was hooked to the role.
Off late you have been criticised for being repetitive and doing the same bubbly girl in every second film? Please comment.
I believe that all bubbly characters are not the same. The presentation makes each one different from the other. It is not a call taken by the actor and when something goes wrong, we have to take the blame for it. But I consider lucky for Urumi to have happened at the right time. It is a role very close to me and I have to thank the entire team of Santhosh, camerawoman Anjuli Shukla, co-producer Mubina, my co-artists and writer Shankar Ramakrishnan who helped me a lot with my dialogues. It was a treat to work with Santhosh sir.
How was it working with Pritviraj and Prabhu Deva?
Even though we were working in extreme weather conditions in difficult terrains, it was a party on sets, thanks to these guys. Both Prithvi and Prabhu used to pull my leg saying that how can this fragile girl fight hundreds of tough men? (Laughs) But after they saw the rushes they said- "We salute you, you are so convincing, which made my day" . Prithviraj helped me a lot, Prabhu and me got along so well.
Was Malayalam a difficult language to handle?
Not really, with a wonderful team like this, I was extremely comfortable. And not to forget that in Urumi, it was not the normal colloquial Malayalam but the Malabar slang used centuries ago. I love to experiment in all languages and I am so happy that Urumi happens to be my first Malayalam movie.
How is Velayudham shaping up?
Like in Urumi, I play a serious character in Velayudham. I am shooting right now for it and its shaping up real well. It is always a pleasure to work with Vijay.