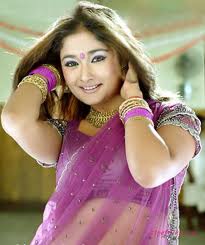 Popular actress and item specialist Kiran Rathod (of Gemini fame), who landed in a controversy last year due to her onscreen romance with a boy in Narasimha Nandi's film High School (the film was banned by the Andhra Pradesh High Court based on a complaint that it is a story of a 30-year-old teacher's love affair with a 13-year-old schoolboy and would adversely effect the psyche of school-going audience), has rubbished reports that she recently tied the knot with her 'secret boyfriend' in Mumbai.
Talking to a leading newspaper, she said that she came to know about those marriage reports only when some of her friends phoned her and wished her good luck. She said it was only after she searched the Internet that she found the reason.
"The reports also stated that a producer wanted the advance he had paid me for a Telugu film back. They added that I wouldn't be able to concentrate on my career as I had tied the knot," she added.
"I wonder who cooks up these rumours. The media has married me off three times in the last seven years. And this time, they haven't mentioned my boyfriend's name. I'm single for the last three years. It's true I was seeing someone before. But I didn't want to ruin my career and so I broke up with him," she explained.