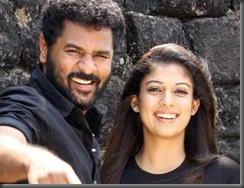 It looks like ace director Prabhu Deva and actress Nayantara will tie the knot sometime in June or July 2011.
Sources say that the delay in their marriage is because of the ongoing divorce case filed by Prabhu Deva and his wife Ramlatha before the family court of Chennai in December 2010.
Initially, Ramlatha was unwilling to settle for a compromise, but when Prabhu Deva offered her a huge compensation in alimony, including three residential properties and two cars, she accepted the compromise.
According to a source, Prabhu has already started giving the alimony he promised and as a first step, he recently paid her Rs. 5 lakhs. A farmhouse and a 22-cent property in ECR have also been transferred to Ramlatha and their two sons Rishi and Aditya. Besides a property in Hyderabad, a flat in Anna Nagar will also be transferred to Ramlatha.