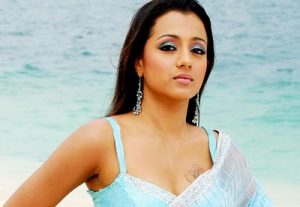 Amidst the high ambitious heroine lots of south cinema Trisha stands out with her attitude and acting! While everyone played that hard game to reach the top spot concentrating only in film activities, this talented actress kept cool and climbed the ladder to that top position without sacrificing her personal life!
And, whilst the top heroines are eyeing heroine-oriented subjects and films, Trisha is contented with what she is doing – Romantic roles. 'I don't want do those 'Heroine' films. I'm satisfied with these romantic roles what I'm doing now in 'Hero' films. In fact my slim body won't suit those big heroine subjects. I'm contented with what I'm now", says the talented tall actress.
The star paired with Ajith in the recently released and successfully running film 'Mankatha'. And, currently she is acting in 'Ganga', a Telugu film, and 'Samaran' a Tamil flick with Vishal!