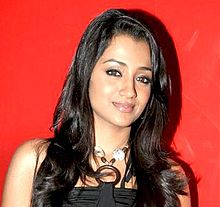 Trisha has come out with an explanation as to why she is not acting in Malayalam and Kannada films. A top star in Tamil and Telugu, she stepped into Bollywood last year. But there was no Mollywood or Sandalwood movie from the actress.
"I really don't find time to act in Malayalam and Kannada films. I am already shuttling between Chennai and Hyderabad thanks to my commitments in Kollywood and Tollywood. I don't want to confuse things by committing so many projects at a time," she says.
At present, Trisha is doing 'Samaran' opposite Vishal in Tamil and 'Dammu' with NTR Junior in Telugu. "I play interesting roles in both. I am happy to share the screen space with Vishal and junior NTR with whom I was supposed to act from long."
In the meantime, Trisha's other Telugu movie 'Bodyguard' (remake of 'Kaavalan' which by itself is a remake) is getting ready to hit the screens early next month. For the third time (after 'Aadavari Maataluku Ardhalu Veruley' and 'Namo Venkatesa'), she is paired with Venkatesh in this film.