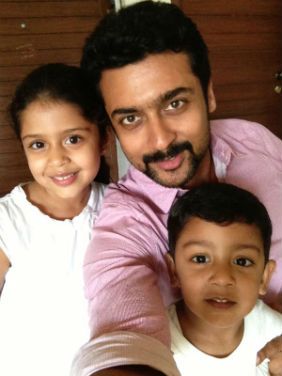 Actor Suriya is popular for his kind-heartedness, his excellence in acting has opened his mouth about his real time wife Jyothika's comeback, and his kids named Diya and Dev. Speaking to the leading magazine Suriya spilt the beans on Jyothika's comeback to the films.
Suriya adds, "She believes that children walk in the footsteps of their parents, therefore her upbringing is with utmost care."
Talking further about his daughter Diya, Suriya spoke that she is interested in sports and hence gets trained in gymnastics, swimming, theatre plays etc. His son Dev is passionate for painting. "He will draw about 100 pages a day."
Suriya concluded by saying "I'm surprised at the amount of happiness I have, I'm living with it". His current project Anjaan, is going to hit screens this Independence Day.