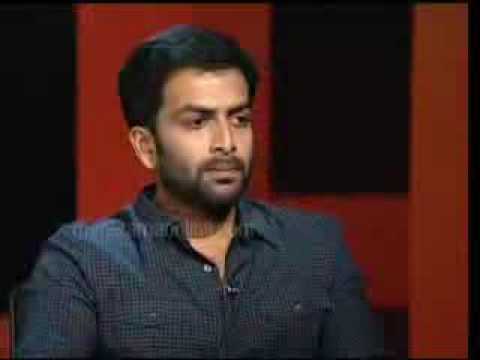 Life has been an uphill climb for actor Prithviraj but he never stopped going. A great fighter that he is, he never let failures and problems crib into his head. The controversy regarding his relationship with AMMA, an artiste association put his acting career almost to a halt but he never gave up hope. When the going gets tough, the tough gets going. He left his terrible past behind and has at last come out victorious with the stupendous success of his latest release 'Classmates' directed by Lal Jose. He is a happy man now with offers pouring in from both Malayalam and Tamil. He is all set to scale higher heights. Read on to know more about him.
Excerpts from the interview:
How do you feel now that your latest release 'Classmates' has been doing exceptionally well at the box-office?
I am extremely happy that 'Classmates' is pulling huge crowds to the theatres. It was great doing this campus flick.
What is your new film 'Vasthavam' all about?
It's all about human relationships set against political backdrop. Most of the Malayalam films have protagonist in the role of ministers or top IPS officers but this film is about intermediary politics. It tells about the state's political scenario in the Secretariat complex like private secretaries, personal assistants to the Chief Minister etc.
What role do you play in it?
In the film, I play the role of a Brahmin boy belonging to Kasargod who gets a job in the secretariat. He gives up all his principles and becomes the Revenue Minister. In short, the film is all about the rise and fall of the character.
So, are your roles in 'Vasthavam' and 'Vargam' similar?
Both the films have similar screenplay, as concentration is on the protagonist's life but they have different stories.
You are working with director Padmakumar for the third time. What is the reason behind it?
The fact is, I love working with him. You know, I have been his keen student since our first film 'Ammakilikoodu'.
Who are your favorite directors?
The truth is I have not got the chance to work with any of the young generation directors so far. Of course, I would love to work with Blessy. I like his films 'Kazcha' and 'Thanmathra'. I also admire Roshan Andrews and Anwar Rasheed. I have not got the chance to work with Anwar though I know him.
What are you forthcoming projects?
I have 'Pakal', directed by debutant M A Nishad. In the film, I play the role of a journalist whose job is to write a feature on farmer suicide-prone village. He entangled himself with the characters in the village while making the feature. I also have another film titled 'Anantham' directed by Kukku. It is about a father and his son who try to turn to spiritual life but give in to family values and pressure from the society.
Do you have films in other south Indian languages?
I have a couple Tamil films on hand. I act with Jyothika in 'Mozhi', produced by actor Prakash Raj and directed by Radha Mohan. I play the role of a musician in the film. I also have another film titled 'Satham Podathe' directed by Vasanth.