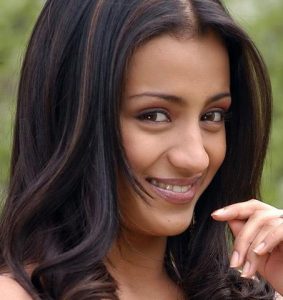 There is a strong rumor in Kodambakkam that Trisha's marriage is over and the boy is from Andhra. What is your opinion on this news?
Earlier there were rumors about my romance and now there are rumors about my marriage. Whether I get promotion in my cinema career or not, the rumors about me never miss. I don't know that who is so interested in spoiling my career. Openly I have no enemies. But every three months, there is some kind of rumors about me. If at all I get married, I will openly tell everyone and get married. I am a frank person. My family will support me in whatever decision I make. I am continuously giving call sheet for Tamil and Telugu films. I have no time to think about my marriage. Clikc here for actress Trisha's Photo Gallery
You are an adventurous person. What was your recent adventure?
I went on a trip to Ranthambhore national park in Jaipur. Usually we will go on a trip to foreign countries. But this time I thought that we can go to some place in India. We gave leave to cell phone, laptop, paper, TV and cinema and spent our time in the forest for a week time. After going inside the forest, we were able to spot tigers only on the second day. We were able to see lots of tigers at close range. It was so beautiful and gigantic to see the eyes of the tigers glowing in the night. Peacocks use to peep through the windows of the room where we stayed. Lots of birds use to look at us through the windows. My friends Sabeena and Hema had accompanied me on this trip. We had a nice time. We were roaming the forests like Three Idiots. So I have decided to spend my summer holidays in India itself. Of all the foreign countries I have visited Ranthambhore national park is the best picnic spot.
There was news that you were supposed to act in the Hindi remake of Vinnai Thaandi Varuvaaya but now somebody else is acting in it. It also seems that you have not been signed for any other Hindi films?
I had already given 25 days call sheet for Hindi Vinnai Thaandi Varuvaaya. But Gowtham Menon did not utilize it. Because of this, I was not able to act in that film. But because of this there was no problem. Our friendship continues. So far I have not committed for any other Hindi film. But I will be acting in a Hindi film produced under a big banner. Talks are going on with regard to this. I will make an announcement regarding this in a short span of time.
Elections are fast approaching. For which party are you going to cast your vote?
That is secret. But I will definitely comply my democratic right.