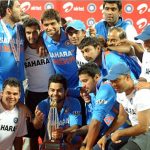 CHENNAI: India's stand-in skipper Gautam Gambhir attributed the team's 5-0 sweep in the ODI series against New Zealand to "overall effort" after the hosts won the final match by eight wickets on Friday.
"It's a complete overall effort and full credit to the team for the clean sweep," Gambhir said.
"It's a young side and everybody was excited, wanted to contribute in a big way. The batsmen scored big runs and the bowlers too did well throughout the series," said Gambhir, who led the side in place of rested Mahendra Singh Dhoni.
Despite missing several stars including Dhoni, Sachin Tendulkar, Virender Sehwag and Harbhajan Singh, the hosts performed beyond expectations to deserve a 5-0 verdict over the struggling Kiwis.
"It was very professional. It was fantastic to see the bowlers do so well today despite leading 4-0 in the series. (Ravichandran) Ashwin, Yuvi (Yuvraj Singh) and Yusuf (Pathan) bowled brilliantly and full credit to the fast bowlers too – Ashish Nehra and Praveen Kumar – for giving us early breakthroughs," the India skipper said.
Asked about the track at the MA Chidambaram Stadium Gambhir said: "I always knew that the wicket would turn in the second innings but never thought it would turn so much in the first innings."
Man of the Match Yuvraj Singh said he is reaping the rewards of months of hard work.
"I am happy with the performance. I have worked very hard over the last four to six months," Yuvraj said.
The left-hander also expressed his satisfaction over the team's performance and especially gave credit to the spinners.
"The spinners bowled well throughout the series and I am very happy with the whitewash. With World Cup coming up, I am happy with the way it's going at the moment."
Yuvraj expressed hope that he would achieve peak fitness before next year's ICC Cricket World Cup.
"Hopefully, I will be super fit by the time the World Cup comes," said a confident Yuvraj.
New Zealand skipper Daniel Vettori was understandably upset with the result.
"We played badly. The wicket was critically difficult," he said.
"India showed us how to play in these conditions and hopefully that will come in handy during the World Cup. We have learnt some lessons from India," Vettori said.
Even as most of the New Zealand players failed to make contributions of note, Vettori was happy with James Franklin's form.
"Franklin's form over the last few days has been pleasing," he said.