Hot and sexy young actress Kajal Agarwal was born on 19th June 1985 in Mumbai, India. She made her debut in films with a Tollywood film "Laksmi Kalyanam" in 2007 in the direction of acclaimed director Teja. She has become a celebrity in the film Industry in a very short span of time. Later on her performance in a Telugu film "Chandamama" got good appreciation from the public as well as from the critics.
Kajal Agarwal, has emerged as the latest heartthrob of Andhra youth with her romantic performance in Ramcharan movie Magadheera. She is also doing a lead role in "Arya-2" opposite to Allu Arjun and against Ram (Devdas Fame) in Just Ganesh. She made her presence in Tamil and Hindi films too.
Name : Kaajal Aggarwal
Pet name : Kaaju
Birth Date:Jun 19th, 1985
Birthplace : Mumbai
Height : 5′6″
Star Sign : Gemini
Marital Status: Single
Hair: Brown
Role model : Mother, because she is an intelligent person.
Life Goal : To become a big actress in india .
Profession : Modeling & Actress.
Debut : Hindi film – Kyun Hogaya na!!
Education : completed graduation (BMM) in Mumbai
Hobbies : Music ,watching films & dancing
First Movie: Bommalattam (Yet to be released), first Telugu movie is Lakshmi Kalyanam
Favorite Films:
Hindi: DDLJ, Sarfarosh, Aaina, JJWS, Socha Na Tha
Telugu: Jayam, Kadgam, Murari, Nuvvu Nenu, Sye, Manmadhudu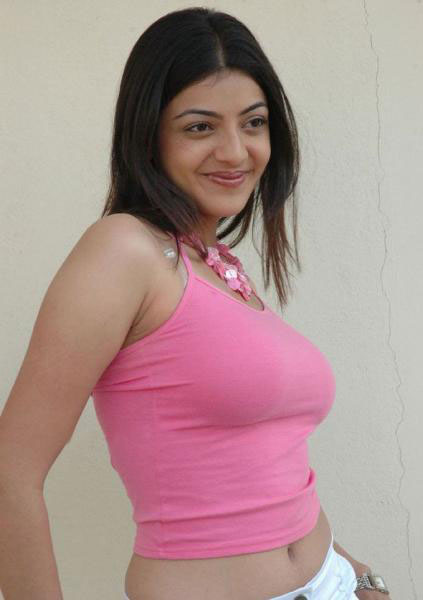 Favorite Colour : Blue , white& Red.
Favorite Food : Hyderabadi Biryani , any Spicy foods
Favorite Clothes : Jeans,t-shirts & Sarees
Favorite Drink : Any soft drinks
Favorite place : kerala, goa, Mauritius
Favorite Car : BMW
Favorite Book: Bridges of Madison County.
Favorite Hotel: Taj Krishna
Favorite Holiday Spot: Goa
Favorite Actors: All the people whom I worked with and Aamir Khan
Favorite Actress: Kajol, Sridevi and Sushimta Sen
Favorite Song: Naalo Uhalaku from Chandamama
Favorite Sport: I am not that into sports but I like to watch cricket on TV
Favorite Perfume: Light Blue by DNG , Summer Breeze
Favorite Hobbies: Watching movies and chatting with friends
Leisure Activities: Oh..I have so many to name..Traveling meeting friends and going out with them.
First Crush: It happened when I was in Ninth standard
Likes in others : Innocent , Loving nature & Honest.
For beauty : aerobics & Yoga.Eats Healthy food.
Strengths : Ability to understand and make the feel the people comfortable at any situation
Weakness: Getting attached to everyone
I Hate: Hypocrisy
I Love: Honesty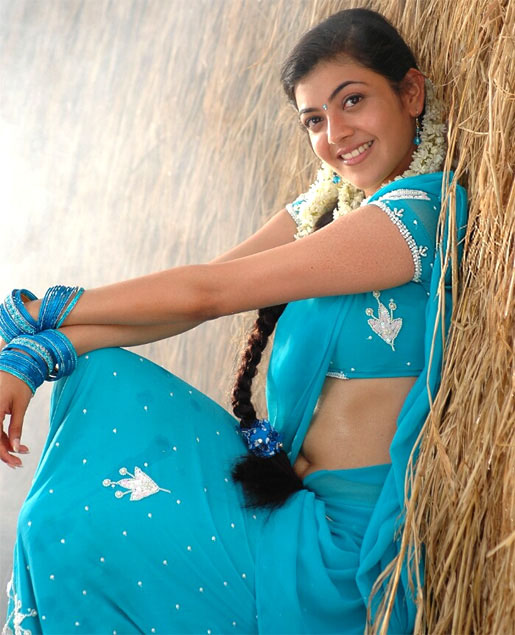 Biography:
Kyun…! Ho Gaya Na (2004), starring Vivek Oberoi and Aishwarya Rai was Kajal Aggarwal's debut under the arc lights but like many other pretty, sexy and young hopefuls, she trekked down south to try her luck. And here she found the pot at the end of the rainbow in the form of Lakshmi Kalyanam opposite Kalyan Ram in Tollywood.
The five-feet-four svelte girl from Mumbai armed with a degree in Mass communication entered the tinsel town through Bharathiraja, the talent spotter. The veteran director decided to cast her as the female protagonist in his bilingual Cinema (in Hindi) and Bommalattam (in Tamil). Even before the release of her debut film, Kajal Agarwal is hot property in Telugu films thanks to Teja who introduced her there with Lakshmi Kalyanam.The film did not do too well, yet Krishna Vamsi came to her rescue with Chandamama, a runaway hit.
The Telugu film industry embraced the innocent faced nymphet and she has quite a number of hits under her belt starring opposite Sumanth, Navdeep and Nitin. Her movies like Chandamama, Pourudu and Aatadista have firmly established her as a contender for the top slot in the Telugu film industry.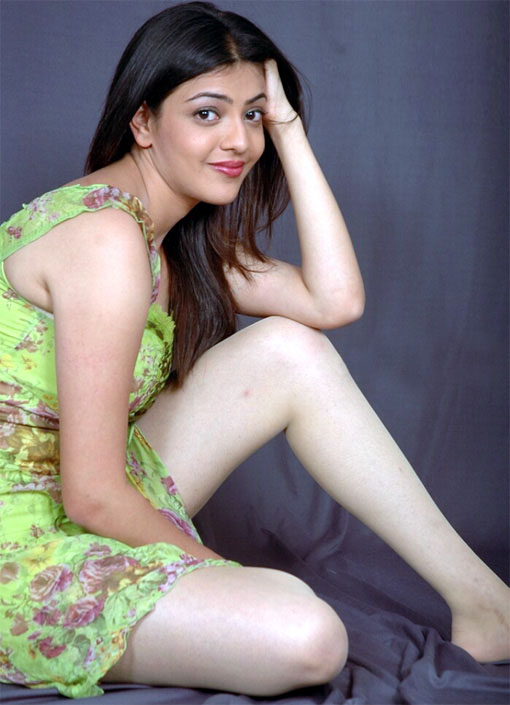 Kajal is breaking into the big league with her forthcoming lineup of under production films such as Dheerudu opposite Ram Charan Teja, Arya- 2 starring Allu Arjun with another untitled flick opposite Junior NTR in the pipeline. Understandably the young actress is extremely proud of her achievement, that too in such a short time.
Notwithstanding her inroads into the Telugu film industry, her Tamil movies like Pazhani, the Bharath-starrer and Saroja as Mirchi Shiva's romantic interest have brought her to the notice of Tamil film goers as well. She is now acting in two Tamil movies: Bommalattam directed by Bharathiraja, which also stars Nana Patekar and Modhi Vilayadu starring Vinay (Unnale Unnale Fame).
Kajal Agarwal is one actress who knows what she wants. The lady, who is in Chennai to shoot for the film Modhi Vilayadu, says that there is nothing wrong in being glamourous.
"I find nothing wrong in it," she says. "Every person has their own limits and boundaries. As long as it is decent and not vulgar and as long as my family approves it, I have no issues with being glamourous," the actress says with a smile.
However, Kajal also makes it clear that she prefers character-oriented roles to glamour ones. "I prefer family roles and I want to be known as a good character artiste," she says.
Currently, she is on cloud nine after replacing Tamannaah opposite the hot 'n' happening Allu Arjun in his next film, a sequel to his blockbuster Arya in Telugu. One sensible dame, we'd say!
Kajal Agarwal has also showed matured performance in Magadheera especially in the flashback episode as a princess. She proved that she is not just after glamour.
information
Kajal Aggarwal is a Mumbai-based famous South Indian Actress. Kajal Aggarwal was born on 19 June1985 in Mumbai, India.
Kajal Aggarwal is a prominent actress in both Tamil and Telugu film industries. Kajal Aggarwal Agg arwal started her film career in 2007.
Kajal Aggarwal first film was Lakshmi Kalyanam Directed by famous telugu director Teja. Very soon Kajal Aggarwal Became one of the top actress in both Kollywood and Tollywood industries.
Kajal Aggarwal rose to fame with her roles in also in Telugu movies Chandamama also in Tamil movies Pazhani. She has appeared in Hindi, Tamil and Telugu films.
Kajal Agarwal has a sister named Nisha Agarwal, upcoming Kollywwood Heroine who is going to rock like her sister