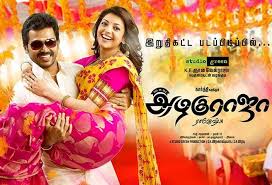 Karthi, Kajal Agarwal, Santhanam and Radhika Apte starred All in All Azhaguraja is all set to hit mega screens this Diwali on November 2nd. And we hear, Kathi's AAA is set to release in around 54 screens in USA.
ATMUS Entertainments have not leaved any coin unturned to make All in All Azhaguraja, biggest US opening for Karthi in this festive season. Directed by M. Rajesh family entertainer All in All Azhaguraja will be releasing in 300+ theaters in Tamil Nadu.
KE Gnanavelraja has lavishly produced Karthi's All in All Azhaguraja that has music by SS Thaman while Balasubramaniem and Sakthi Saravanan handled the camera and editing is by Vivek Harshan among the crew.
Rajesh's All in All Azhaguraja is been trimmed by 15 minutes to be crispier and locked to 160mins running time on the whole.