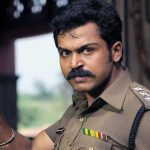 Karthi on Wednesday called on Chennai city Police Commissioner T Rajendran and requested him to act tough on those producing and selling pirated DVDs of his recent release 'Siruthai'.
Speaking to reporters after meeting the top police officer, the actor said, "Siruthai was made on a huge budget. Not just 'Siruthai', each and every film is being produced by spending a lot of money."
"It is unfair to release pirated CDs of new films without any permission. DVDs and CDs of latest movies are available freely all over. They are being sold even in front of temples," he said.
Stating that the police are already taking action against those involved in the trade, the actor said he requested the Commissioner to expedite the action. "Such persons should be dealt with iron hand," he said.
Karthi met the Commissioner during the same time last year too, and thanked him for the actions to prevent video piracy of 'Aayirathil Oruvan'. He said the pirated CDs were available within three days of the film's release but the police were prompt to crack the whip against pirates.