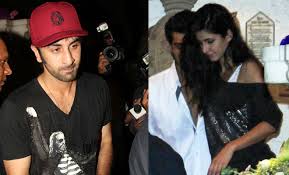 A while ago, Ranbir Kapoor had publicly declared that Katrina Kaif is his 'special someone' in life and that he could sacrifice his life for her. But that's not the same with Kat, who claims that she's verymuch single, and isn't really in love with anyone right now. Talking to the media, Katrina Kaif said that she's single presently and has no marriage plans anytime soon.
"I am single until I get married. This sentence was mine and now everybody uses it. I should have a copyright over it. Also, I have no plans to get married yet," the actress said. Well, this indeed is a shocker to us, considering the fact that Ranbir and Katrina have given us every possible reason and hint to make us believe that the duo are a couple in the real life. While Ranbir almost made his fondness for Kat public, the latter still maintains a non-commital statement about Kapoor.
Katrina Kaif further expressed her views on her recent bikini drama in Spain. The actress said that she is not upset about it any longer. "Had I known I would be photographed, I would have sported a matching-coloured swimsuit", she said. In the recent past, we saw the Internet and daily papers buzzing with images and news on Katrina Kaif spotted in a bikini in Ibiza, Spain. The actress was spotted with Ranbir Kapoor at the do. Ranbir Kapoor and Katrina Kaif have been playing the hide and seek game with the media for quite sometime now. It is said that the two started dating on the sets of Ajab Prem Ki Gajab Kahaani, and since the couple has been inseparable. It is also believed that they have convinced their parents about their relationship, yet we wonder why Katrina is so reluctant to express her love for Kapoor.