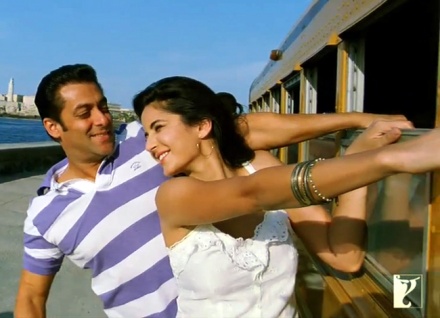 Salman Khan and Katrina Kaif's peerless romance shines through in this first trailer of the much-awaited Yash Raj Film Ek Tha Tiger.
The trailer more than makes up for the absence of Katrina Kaif in the teaser released a month ago. In the trailer, we see Salman Khan, a RAW agent, being chided by his boss (Girish Karnad) for his aggressive sleuthing that inevitably results in people being bumped off. This time, Tiger (Salman Khan) is sent on a mission to just "observe". But "observe" what?
Cut to the scenic cities of Dublin and Istanbul and we are introduced the character of Zoya (Katrina Kaif), a dance instructor. Tiger's mission involves keeping a close eye on Zoya and he thinks the best way to do that is to woo her.
So we see Salman Khan scaling up the drainage pipes of her apartment, cracking poor jokes, displaying a couple of wacky antics to Zoya. In no time, she's in love. But does he feel the same for her, or is his "love" just a game.
Ek Tha Tiger apparently has Salman Khan playing a RAW sleuth gone rogue. It's apparently the story of a man who fights his own bosses to save the woman his loves.
The trailer offers some entertaining moments, like when Katrina Kaif asks Salman Khan if he's married. "Direct shaadi? Yeh nahin poochogi meri girlfriend hai?" Salman replies. "Nahi, ab tumhari umar shaadi ki ho gayi hai," pat comes Katrina's rejoinder.
In another scene where Salman and Katrina get introduced she tells him, "Hi, I'm Zoya, friends call me Zee." Salman replies: "I'm Manish, friends call me Doordarshan." Katrina says: "Bahut kharaab joke tha".
Ek Tha Tiger is directed by Kabir Khan and is slated to release on August 15.
Don't miss below the first trailer of Ek Tha Tiger and catch more images ahead.